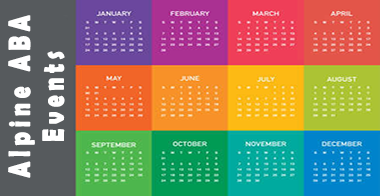 See What's Happening!
Our Alpine ABA Community and Learning Center monthly calendar of events is online now.
It is our mission at SD Associates to provide evidence-based and trauma informed services that will enrich the lives of individuals with disabilities and their families. We believe that all people can learn regardless of their challenges. We teach pro-social skills that enable meaningful community integration and support effective life long learning.
In our Northern Vermont region, services are split into three primary categories:
In-school services: School-age students in Franklin, Chittenden, and Washington Counties receive contracted services for the school year when our Behavior Analyst creates and coordinates with school teams and a Registered Behavior Technician we provide. Learn more…
Sparklers program: Early learners (ages 2-5) receive early intervention ABA insurance services (currently accepting Medicaid and BCBS) at our Montpelier and Williston locations. Learn more…
Alpine ABA Center: Participants (ages 14 and up) may come to our South Burlington learning and community center (with a support person or alone, if able) to learn skills created in the science of ABA taught by Master Level BCBAs and educators – this is a private pay service. Learn more…
To apply for services, click here.